Hey All,
Our team of live bloggers is ready to bring you all the breaking news from San Diego Comic Con 08.

Starting today our coverage of SDCC08 has begun!! I will be providing you with some updates, schedules and all the other fun...ummm Geek Fandom you can imagine!!

SDCC is truly a heaven for Comic Book, SciFi, TV and Movie lovers!! So if that sounds like you well just sti back and relax can check out the coverage here at The ODI.

We have several members, readers, friends, and Losties that will be hanging out with us this year and it all being setup as an amazing time for all.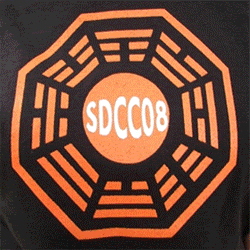 For those of you who will be joining us at the LOST panel on Saturday at noon will get one of two exclusive SDCC08 Dharma Logo shirt as a gift!!

Anyone that has not emailed me yet, but will be attending feel free to contact me via email (mrtheodi@gmail.com) if you would like to be a part of our group. Depending on the demand for the shirts we will make them available for sale. Email to joint the priority list.

NOTE: The Heroes Panel will be right before the LOST panel and we will be blogging live from there as well.